The total crypto market cap is currently declining and broke the $170.0B support level.
Binance coin (BNB) price is rebounding and it is currently up around 4% to $23.20.
Bitcoin cash price is under a lot of pressure below the $285 support area.
Tron (TRX) price is extending losses and it may test the $0.0210 support level.
The crypto market cap is currently declining, with bearish moves in bitcoin (BTC) and Ethereum (ETH). BNB is moving higher, whereas litecoin, ripple, bitcoin cash, TRX, XLM and EOS are declining.
Bitcoin Cash Price Analysis
Bitcoin cash price recently declined heavily below the $295 and $290 support levels against the US Dollar. The BCH/USD pair even broke the $285 support level and settled below the $280 level. It traded close to the $272 level and is currently consolidating losses.
On the upside, an initial resistance is near the $285 level, above which the price may rebound towards the next major resistance at $295. On the downside, the main supports are $272 and $270.
Binance Coin (BNB), Litecoin (LTC) and Tron (TRX) Price Analysis
Binance coin (BNB) price managed to gain bids near the $22.20 level and it recently climbed higher. BNB price is up around 4% and it broke the $23.00 and $23.20 resistance levels. On the upside, the main resistance is at $23.50, above which the price could test the $24.00 level. On the downside, the $23.00 level may act as a support zone.
Litecoin price started a major decline after it broke the $80.00 support area. LTC price broke the key $76.00 and $75.00 support levels to enter a bearish zone. It traded close to the $70.00 support and is currently correcting towards the $75.00 resistance, where sellers may emerge.
Tron price performed really bad in the past few sessions and declined more than 15%. TRX price broke the $0.0300 and $0.0250 support levels. It is currently under a lot of pressure and it seems like sellers might push the price towards the $0.0210 or $0.0200 support area.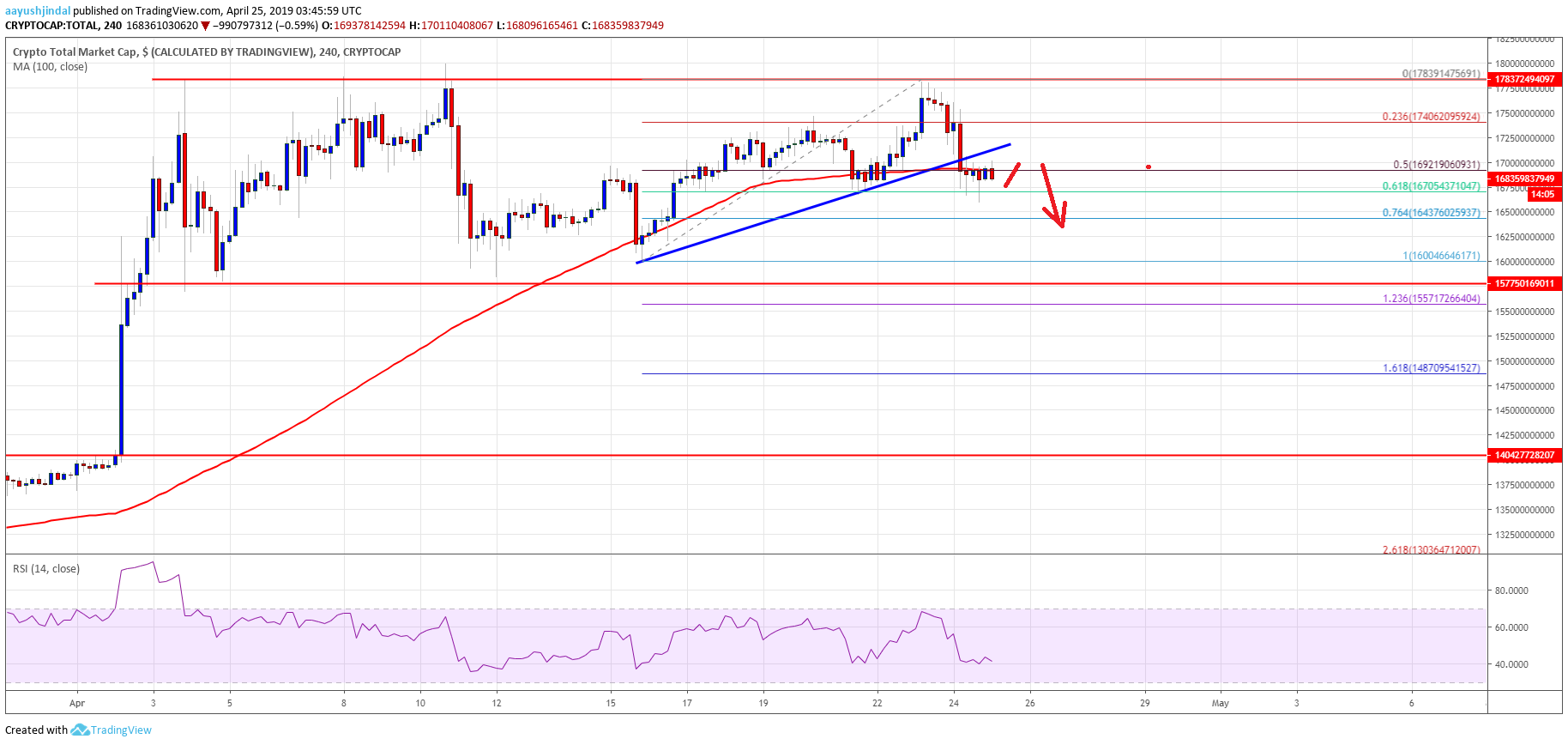 Looking at the total cryptocurrency market cap hourly chart, there was a failed attempt near the $178.5B resistance area. The market cap started a downward move and broke the $175.0B and $172.0B supports. Moreover, there was a break below a connecting bullish trend line near the $170.0B support. It seems like the market cap could extend the current decline and it could move towards the $164.5B or $162.5B support levels. Therefore, there are chances of more weakness in bitcoin, Ethereum, EOS, litecoin, ripple, binance coin, BCH, TRX, XMR, XLM and other altcoins in the near term.
The post Crypto Market At Risk of Weakness: BNB, Litecoin, Bitcoin Cash, TRX Price Analysis appeared first on NewsBTC.