If you take one look at Coin Market Cap, it becomes easily apparent that cryptocurrency trading is reaching multi-month highs. However, researchers claim that many established crypto exchanges are reporting billions in false volume each and every day, potentially setting precedent for a nasty drop in the Bitcoin price.
Booming Crypto Volume
For much of late-2018, exchanges in this space saw little traffic. Case in point, the daily nominal value of cryptocurrency trades fell under $10 billion on a number of occasions. But, ever since Bitcoin's tumble in mid-November, trading activity has purportedly been on the up-and-up.
In February, exchanges posted a collective $25 billion or more — approximately 20% of the market value of all digital assets — in volumes each and every day. To give this statistic some much-needed perspective, this budding market hasn't seen such activity seen early-2018, when cryptocurrencies were still trending on Twitter worldwide and mainstream media outlets covered the matter day in, day out.
But, Crypto Integrity, a blockchain-centric research division that specializes in market manipulation and fraud, claims that volume figures seen are far from cut and dried.
88% Of Trades Could Be False
Integrity released its February report earlier this week, which outlined the presence and veracity of "fake volumes in cryptocurrency markets." The pseudonymous team explains that there's a high likelihood that 88% of all trading volume seen on exchanges during February, which was when tumult in Bitcoin markets returned, is entirely false.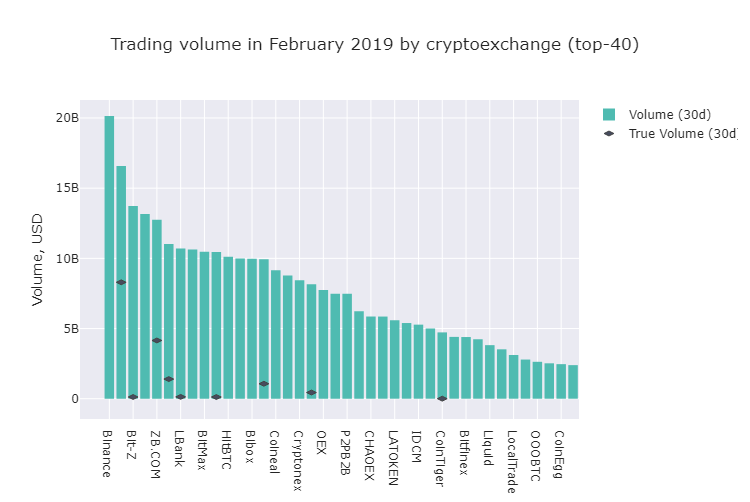 Integrity's data science team specifically draws attention to OkEX, Bit-Z, Huobi, HitBTC, among a handful of other mostly unregulated exchanges as perpetrators. As seen above, Binance, BitMAX, among a handful of other exchanges that the fittingly-named Integrity group investigated are reportedly clean. Speaking to Decrypt, a team member from the research group explained how it gathered this information:
"[We built] a system that collects low-level market data from exchanges (order books as well as trades). It allows us identify what no one is able to find on charts or by the analysis of trades & volumes."
What Does That Mean For Bitcoin?
That's the question that remains on the mind of traders the world over. If this data is bonafide, some fear that it could set a precedent for a collapse in the Bitcoin price first and foremost, and then crypto assets across the board.
Per previous reports from NewsBTC, leading analyst The Crypto Dog explained in the context of recent market conditions that if the volumes seen on Coin Market Cap and sites of similar caliber are real, BTC is poised to burst into a "raging bull market."
Financial Survalism, one of Crypto Dog's trading peers, echoed this thought process. The insurance agent turned Bitcoin trader noted that from a top-down perspective, trading volumes are the highest this industry has seen since the last week of 2017, a time when everyone and their dog were investing their savings into altcoins in dreams of striking it rich. Survivalism adds that this nascent space hasn't ever seen "four straight weekly bars with [this] much buying volume," leading him to the conclusion that a short-term bounce to precede a move to under $2,000 is in Bitcoin's cards.
In a number of recent posts on Twitter, eToro's in-house crypto trader, Mati Greenspan, has also drawn attention to why high market activity could be a positive sign for Bitcoin moving forward. Greenspan once explained that "more meaningful moves" in markets of all nature often go hand-in-hand with higher volumes.
But, all this would be deemed moot if Integrity's report is even the slightest bit accurate. Even if there are some nuances to the purported 88% statistic, that would mean that cryptocurrency volumes are at levels seen in early Q2 of 2018, rather than late-Q4 2017/early-Q1 2018. This would be a drastic blow to analysts who believe that cryptocurrencies are slated to move higher on the back of volumes.
As of the time of writing this, however, the cryptocurrency market is only slightly down, with BTC posting 1.61% in losses.
Featured Image from Shutterstock
The post 88% of Crypto Volume Could Be False: Is Bitcoin Price Drop Inevitable? appeared first on NewsBTC.