The total crypto market cap is showing positive signs above the $117.0B support level.
Bitcoin cash price is gaining momentum and it could break the $125 and $128 resistances.
EOS price rallied more than 5% and it looks set to break the $3.00 hurdle.
Stellar (XLM) is slowly correcting higher towards the $0.0800 and $0.0820 resistances.
Tron (TRX) is slightly under pressure below the $0.0255 support level.
The crypto market could accelerate higher in the near term. Bitcoin (BTC), BCH, Ethereum, EOS, ripple, stellar (XLM), tron (TRX) and other major altcoins are likely to gain traction.
Bitcoin Cash Price Analysis
Bitcoin cash price found a strong buying interest above the $120 level against the US Dollar. BCH/USD started a fresh upward move and traded above the $122 and $124 resistance levels. It could continue to move higher and surpass the $125 and $128 resistances in the near term.
If there is a downside correction, the previous resistance near the $122 level is likely to act as a decent support in the coming sessions.
EOS, Stellar (XLM) and Tron (TRX) Price Analysis
EOS price performed really well and jumped more than 5%. It broke the $2.60 and $2.85 resistance levels. The next resistance is near $3.00, above which the price could surge towards the $3.15 and $3.20 levels.
Stellar price is finding bids near the $0.0750 level and it is currently correcting higher. However, XLM is likely to face a strong selling interest near the $0.0800 and $0.0820 resistance levels.
Tron price declined recently and settled below the $0.0255 and $0.0250 support levels. TRX price might climb higher, but it won't be easy for buyers to gain traction above the $0.0255 resistance.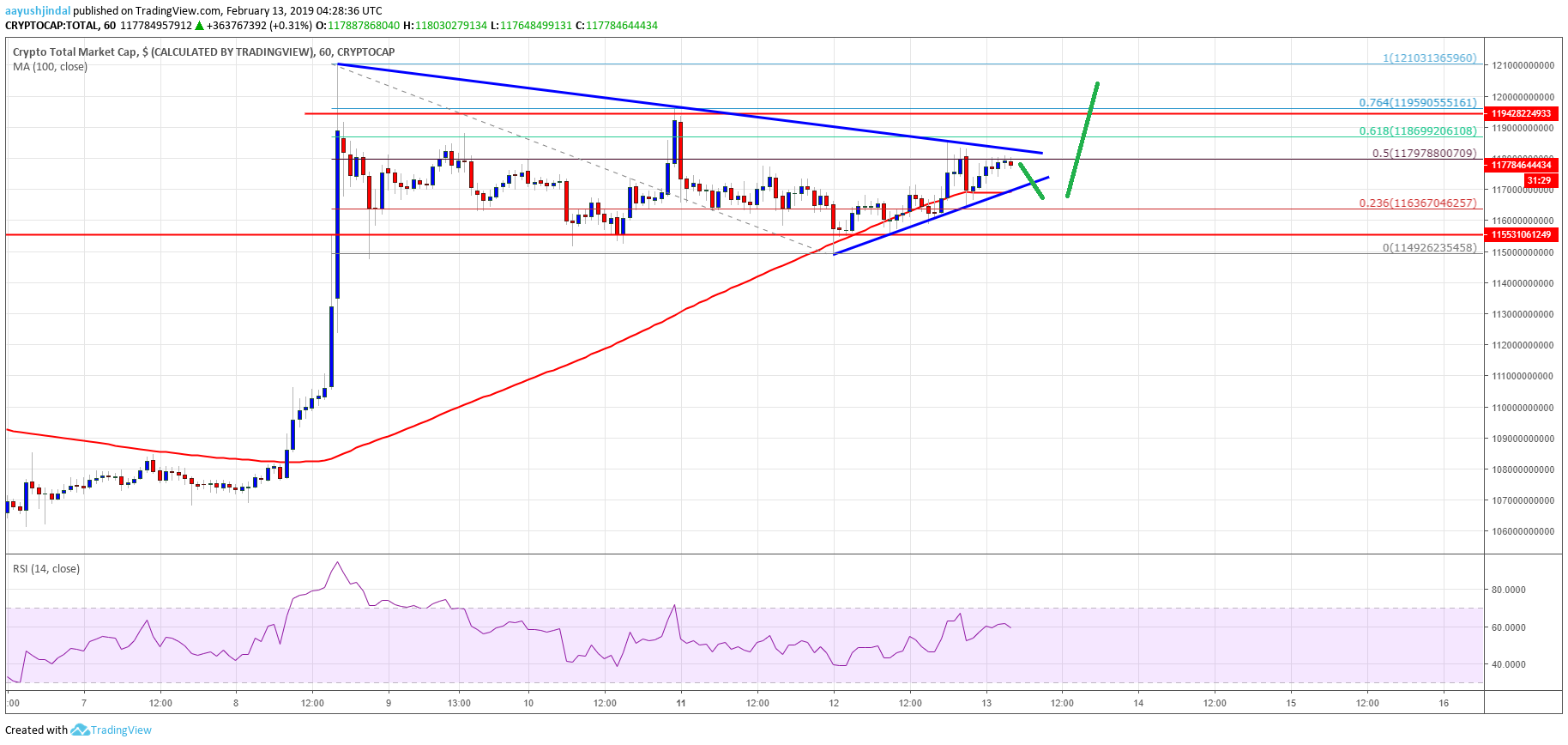 Looking at the total cryptocurrency market cap hourly chart, there is a consolidation pattern formed above the $117.0B and $115.0B support levels. If the market cap climbs above the $118.0B and $120.0B resistance levels, there could be a sharp upward move in the near term. On the other hand, dips remain supported near the $116.0B and $115.0B levels. Overall, there are chances of more gains in bitcoin, Ethereum, EOS, ripple, LTC, bitcoin cash, XLM, TRX, and other altcoins.
The post Crypto Market Eyes New Highs: Bitcoin Cash, EOS, XLM, TRX Analysis appeared first on NewsBTC.